MEDICAL OFFICES INTERIOR DESIGN
Having a well-designed and branded medical office can definitely contribute to generating more revenue for doctors. A unique and memorable interior design can help attract new patients and retain existing ones by creating a welcoming and comfortable environment that reflects the values and personality of the practice.
Additionally, a strong brand identity can help differentiate a medical office from competitors and increase brand recognition and loyalty. By investing in professional interior design services, doctors can establish a strong and recognizable brand that resonates with patients and encourages them to refer friends and family to the practice.
Ultimately, a well-designed and branded medical office can lead to increased patient satisfaction, higher retention rates, and ultimately, increased revenue.
Your Success Is Our Top Priority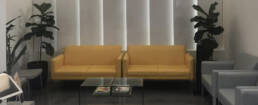 At our interior design company, we believe that every medical office should be designed with a focus on patient comfort and ease of movement. Our designs incorporate elements such as calming colors, comfortable seating areas, and easy-to-navigate layouts that ensure patients feel at ease throughout their visit. We also prioritize creating private areas for confidential consultations and examination rooms to provide patients with the utmost privacy and comfort.
We understand the importance of functionality in a medical office. Our designs incorporate elements such as optimized storage solutions, ample lighting, and efficient workspaces to help staff members perform their duties comfortably and efficiently. We also pay attention to the details, such as audio-visual systems and tech integration, to help streamline communication and reduce stress for both patients and staff.
Throughout our design process, we strive for open communication with our clients. We value your input and will work closely with you to understand your needs and preferences. Our goal is to create a space that reflects your vision while exceeding your expectations.
We take pride in our quality workmanship and use only the highest quality materials that are sustainably sourced. We strive to make our services affordable and offer competitive pricing without sacrificing quality or style.
If you're looking for a trusted and experienced interior design company for your medical office, look no further. Contact us today to schedule a consultation and let us help you create a beautiful and practical space that sets you apart from other medical offices.
Let's Talk About Your Medical Office